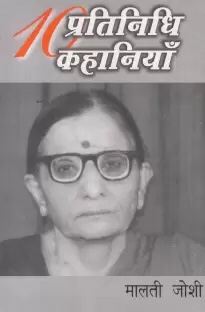 I did not read a lot of books last year. I had joined a new job and life was very busy. My parents visited me last year and got my haul of Hindi books. It is a rite of passage – anyone coming from india has to get me the Hindi language books from my favourite authors. I can't get them here in Australia. So have to rely on family to get them to me,
If you are fond of short stories and can read Hindi, I would encourage reading Malti Joshi. I first read her when I was a young teenage girl. My aunt, who lived opposite us, was a Hindi literature lover and a poet. So her house was filled with eminent poets from across the country. I was introduced to this wonderful creative world through her and fell in love with the language.
Malti Joshi's books are a window into the Indian middle class in the 70s and 80s. Her stories are written in simple language but touch your emotional core. They are short stories that touch on values at that time. I can relate to so many of them and that is probably the reason I love her books.
I now possess most of her short stories and they are one of the best books I read last year. Her "pratinidhi kahaniyan" hold some of the best stories I have read. There is a story about a young boy whose values prevail even in abject poverty, a girl who understands through experience how times change and karma can come and bite you, a woman who finally understands the meaning of true love from her husband of 20 years. So many heart touching stories. I highly recommend to read them.