I wrote about my happy book yesterday. I have read so many books that make me sad – mostly they are the stories where humans turned on humans; they are the stories of human power gone wrong; where humans forgot their humanism and were motivated by man made differences like caste, creed, colour and race!
The first one is Tamas by Bhisham Sahni. It was also made in a popular TV series in the 90s with some top actors like Om Puri, Deepa Sahi, Pankaj Kapur and Amrish Puri to name a few.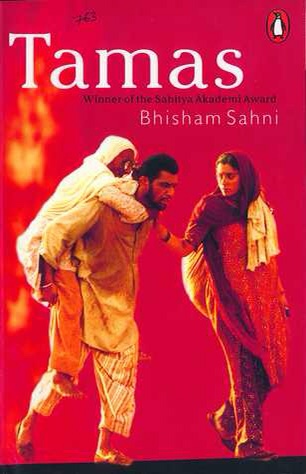 The book is part autobiographical as a lot is based on the author's own experiences of the time. It is set against the Indian partition and the ensuing riots which claimed millions of lives and follows the journey of both Hindus and Muslims. It is a sad story, where communities who had been living together in harmony for centuries, turned against each other. It also shows how individuals and politicians manipulate the common people for their own gains.
The second book is also against the backdrop of this very unfortunate and sad event. It was one of the first book I read on partition and I haven't stopped since! The book is Train to Pakistan by Khushwant Singh. It was also made in a film later starting Divya Dutta who is a fellow alumni from my school.
The book is based in a fictional village of Mano Majra on the border of India-Pakistan and recounts the horrors of partition through it. The book is extremely poignant as rather than focussing on religious and political events, it has a personal, human element and the impact it has on people of the village.
Both these books are sad but thought provoking. They show the worst side of the humankind. Recently I have read books about the race issues in US and they strike a similar cord where we as humans lose all sense when we start differentiation amongst ourselves on race.
I don't usually recommend sad books but the two above are must read. They are a slice in history that should not be forgotten.